About Us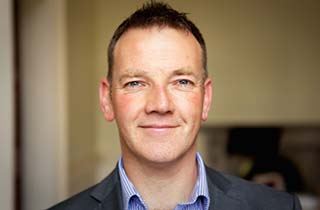 Colm Murphy founded Dynamic Leadership Development after over ten years global experience in leadership and executive development within the I.T. and Professional Services sectors.
As a coach and trainer, Colm is passionate about assisting leaders and their teams to achieve meaningful behaviour changes that drive business results through focused and engaging coaching and training interventions.
Colm is a strong advocate of focusing on people's strengths and passions in order to help them be truly distinctive and impactful in all aspects of their lives. He uses recognized psychological frameworks in helping clients obtain long lasting changes.
Colm lives in Dublin with his wife and triplet sons.
He is a member of the Smurfit School of Business faculty for their coaching diploma programmes
Colm has Postgraduate Diplomas in both Executive Coaching and Coaching Psychology as well as in Training & Development. He is a certified Myers Briggs, Birkman Method and NLP facilitator.
He also has a Bachelor of Commerce degree and a Masters in Accounting and was a qualified chartered accountant for a number of years.
Colm is a member of the European Mentoring and Coaching Council and adheres to their code of practice (www.emccouncil.org).
---
Our Partners
Dynamic Leadership Dynamic is proud to be a partner of the following world class organisations:
Zenger Folkman
Recognised by Trainingindustry.com as one of the Top 20 Leadership Organisations, Zenger Folkman have lead the way in focusing their leadership development on effective leaders focusing on their strengths rather than fixing weaknesses.
Zenger Folkman have used their extensive research to determine what separates Extraordinary Leaders from all the rest.
Dynamic Leadership Development offers The Extraordinary Leader program and 360 tool in conjunction with Zenger Folkman.
The Influence Company
Having worked with thousands of delegates in corporations across the globe, The Influence Company is a leading authority in the skill of Influence.
Dynamic Leadership Development is delighted to offer to its clients the insights, best practices and 360 process designed by the Influence Company.
Novum (Formerly PB Coaching)
A world class centre of excellence for coach education, Novum's offerings range from 16 day University validated Executive Coaching diplomas to 5 day in-house Manager as Coach programs with EMCC certification.
Dynamic Leadership Development is proud to be an associate of Novum and to be part of their faculty team on the Smurfit School of Business "Advanced Professional Diploma in Business and Executive Coaching".
---